Koh Tao
Holy Shark Sighting Batman!
August 3, 2005
Holy Shark Sighting Batman!
Today was an up and down day that finished with a bang. I began the day by waking up at 7:45 am to the sun shining. I relaxed for a while on the deck of our bungalow looking out to the sea. This is going to be a great day for diving or so I thought. Tina woke up a half hour later and was suffering from a head cold. Blowing her nose would make her light headed, not good when diving when you're 30-50 below the surface of the water. We decided not to go diving and I was bummed.
We laid around most of the morning while Tina read and I drove myself nuts not being in the water. The tide came up some and I decided to try snorkeling. The water was still shallow, but I had to get out and do something. While out snorkeling I found a great spot with some banner fish, butterfly fish, groupers, and an assortment of other small fish.


Banner Fish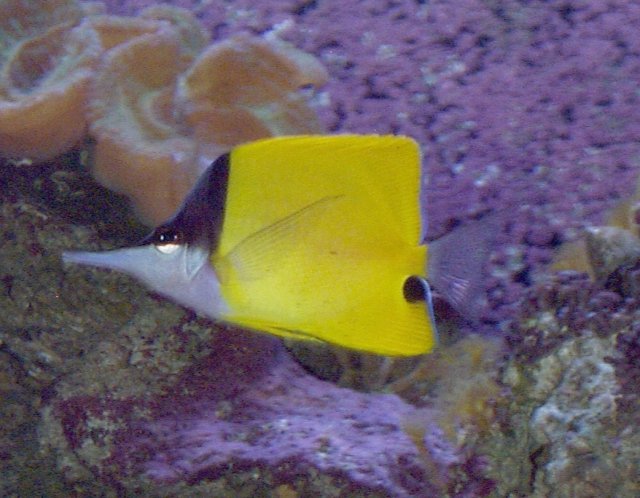 Butterfly Fish

I came back to tell Tina the snorkeling was great and she said, "I only have a few more pages to finish my book." (Dead Zone by Stephen King) I decided to wait until she finished the book before heading back out. Once she finished the book we headed down to the beach and started putting on our snorkeling gear when we both looked up in the sky and saw a huge rain storm coming our way. It began to rain on us within 10 minutes. Great, there goes our visibility. We decided to go out anyway. I showed Tina the area I found earlier. We hung out at this area for a while and decided to swim towards Shark Island. We only swam for a few minutes when both of looked up and said, "Did you see that shark?" It was swimming at an angle away from us, so I tried to catch up to it. No luck, I only got to see it for 30 seconds. It was a six foot long reef shark and looked similar to this one.
We swam towards the area where the shark went away from us. I've never seen any type of shark snorkeling or scuba diving before. It got my heart pumping and I wanted to see it again. I'm swimming along looking for the shark and next thing I know Tina is tugging on my fin. She just saw two sharks swimming towards her about 15 feet away. She said, "I've had enough shark sightings and am ready to get out." I reluctantly agreed and we began to swim back towards shore. I'm swimming along thinking my shark sightings for the day are done when out of nowhere two sharks come swimming across my line of sight from the left to the right about twenty feet away. I pointed them out to Tina, but she didn't see them. We headed back to shore taking our time in the shallow water. I couldn't stop thinking how cool it was that I was swimming with sharks about 10 minutes ago.
Later in the evening we decided to pamper ourselves by going to the spa. The
Jamahkiri Spa
was right above our resort. We both ordered the Sabai package. This included a steam sauna, aloe vera body wrap, facial massage, and an oil massage for 1450 baht ($36). This was splurging for us as backpackers, but cheap compared to the States. Our night at the spa began by taking an open shower that overlooked the cliffs with an incredible view of the sea. Next, we both put on our sarongs and went into the steam sauna for twenty minutes. While in the Sauna we met Evelyn from Belgium. Her and her boyfriend have two days left of their 10 1/2 month around the world trip. After the sauna we laid down where they applied aloe vera to our whole body, then they wrapped us in a cotton sheet for twenty minutes. This was so relaxing. I looked over at one point and saw the rapid eye movement from Tina dreaming. They had to wake her up when it was over. We took another outdoor shower to clean off the aloe vera before heading of for a facial massage. The facial massage consisted of them rubbing in numerous amounts of lotions and facial scrubs for forty-five minutes. The best for last, an hour long oil massage. Fully relaxed and feeling good I got up from our oil massage and said to Tina, "This is why we busted our butts fixing up our house."
The spa also had a restaurant with a stunning view over the bay. We already went over our budget for the day, so we decided to blow it out of the water and have dinner at the spa too. Evelyn and her boyfriend Tim joined us for dinner. The food was exceptional the conversation was just as good. They offered to give a personal Chocolate and Beer tour of Belgium if we pass through. Tina's on board!
« Prior Entry
Next Entry »